Basic Instinct
1992
Basic Instinct, a film which caused massive protests during filming in San Francisco for its portrayal of a twisted, manipulative, lesbian icepick murderer, quietly breezed into Petaluma for a few nights of midnight shooting in 1992.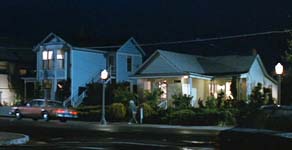 Starring Michael Douglas and Sharon Stone, the Petaluma scene shown here was shot in the area of St. Vincent Catholic Church, a small adjoining park, and a row of houses at 26 and 28 Liberty Streets. The neighborhood is completely unchanged today, as seen in the photo below.
In the scene, Catherine Trammel (Stone) drives to Albion Road in Mill Valley (actually to this Petaluma street) to meet her strange friend, convicted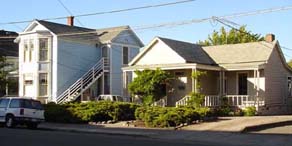 murderer Hazel Dobkins (Dorothy Malone). The Dobkins house is the one on the right, #26. Trammel and Dobkins walk out of the house and to a car parked in front. Trammel then drives around the corner to Western Avenue, where she is pursued by Detective Nick Curran (Michael Douglas).