Flubber
1997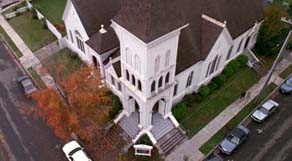 The original Flubber, titled The Absent Minded Professor, was released by Disney in 1961 and starred Fred MacMurray. Flubber's success was followed by a sequel, Son of Flubber, in 1963. And in 1997 Disney attempted to recreate Flubbermania with another sequel, this time starring Robin Williams.
Flubber, from the term flying rubber, is an exceptionally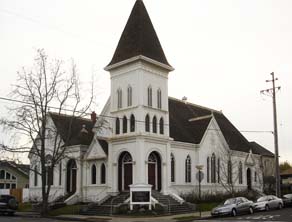 bouncy material invented by Professor Phillip Brainard (Williams). The professor has missed two weddings to his fiance Dr. Sara Reynolds (Marcia Gay Harden). The Petaluma scene occurs at the church shown above, The Church of the Open Door, at the corner of Fifth and B Streets. The photo to the right shows the church as it looks today.
As Dr. Reynolds and a friend are leaving the church, the old Lincoln Primary School at 11 Fifth Street is visible in the background (shown below).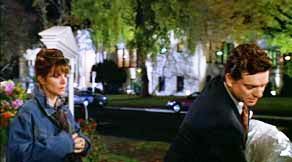 Flubber is a humerous film with some great effects, particularly the animated green flubber characters. Flubber is a good family film, and is widely available on DVD.