Peggy Sue Got Married
1986
"Peggy Sue, right now you're just browsing through time. Choose the things you'll be proud of, the things that last..."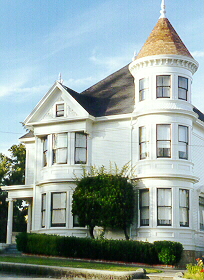 In early 1985, Director Francis Ford Coppola again came to Petaluma, along with Kathleen Turner, Nicholas Cage, Maureen O'Sullivan, Joan Allen, and the unknown actor Jim Carrey, for what many consider the best of the Petaluma films. Peggy Sue Got Married is the story of Peggy Sue Bodell (Kathleen Turner), who while attending her 25th high school reunion passes out and is taken back in time to the spring of 1960 in her hometown. The town, of course, is Petaluma.
For Peggy Sue's home Coppola chose an imposing white three-story Victorian home at 226 Liberty Street, built in 1902 on the edge of downtown Petaluma. The photo above show how it looks today. Numerous scenes occur in front of the house, including views of the 1920s era homes across the street which are seen when Peggy Sue's father takes the family out front to see his new car. The interior scenes in the home were also filmed on location in this building.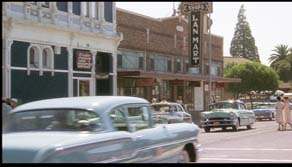 The director made excellent use of the town's extensive 1940s and 50s architecture. A drive from the high school to Peggy Sue's house proceeds down Kentucky Street past the Lan Mart Building at 10 Kentucky, then past the old Library at 20 Fourth Street, and in front of Petaluma's row of Victorian Ironfront buildings on Western Avenue. As a result of an editing error, they again pass the old library before arriving at Peggy Sue's Liberty Street house.