Inventing the Abbotts
1992
An amazing amount of effort was put forth to transform downtown Petaluma into a giant 1950s movie set for Inventing the Abbotts. The film's depiction of Haily, Illinois, circa 1957 was stunning. The storefronts, traffic signals, even the displays in the drugstore windows were perfect. One would expect these successes to be the harbinger of a great period movie. Unfortunately, that doesn't happen.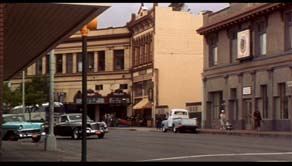 Inventing the Abbotts is a coming-of-age story of two brothers from the wrong side of the tracks whose family had long ago been cheated out of a sizable fortune. They have developed an obsession for seducing the three daughters of the man who stole their chance at financial security. The brothers are actors Joaquin Phoenix (whose brother River appeared in another Petaluma film, Explorers in 1985), and Billy Crudup.
Most of the movie's action occurs in the two most frequently utilized film locations in downtown Petaluma, the Center Park area and the first block of Western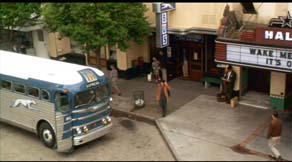 Avenue. The Mystic Theater, McNear's Restaurant and Kabuki Sushi on Petaluma Blvd. North's first block serve in the film as the Haily Theater, the Lake Hotel, and a Greyhound Bus Station. Around the corner on Western Avenue is the Iron Skillet Restaurant, where much of the action occurs. Across the street is a clothing shop which was used for interior scenes. Perhaps the most significant location is American Alley, shown here,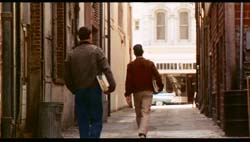 directly across from the restaurant. Down this alley the boys walked to what seemed like every other location in the film...perhaps it was to show them leaving the other side of the tracks and entering the Abbotts's world.
Roger Ebert gave Inventing the Abbotts two stars. Personally, I had a lot of hope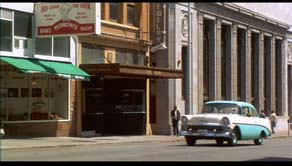 for this film when I first heard it was to be produced by Ron Howard, but even that didn't help. Watch this film mainly for the locations.
Inventing the Abbotts is rated R and is 120 minutes in length. It is generally available everywhere including Netflix.