1926 American Trust Building

101 Petaluma Boulevard North
---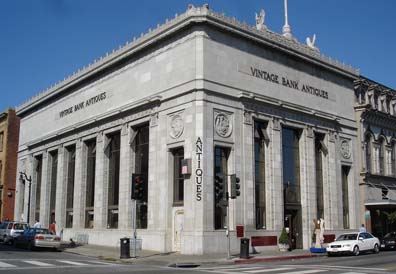 The American Trust Company Building, which is known to most in Petaluma as the Wells-Fargo Building, was built in 1926 and is of a Neo-Classical Revival design. The noted designers of banks, Hyman and Appleton of San Francisco, were the architects in the era when banks were designed to look like temples.
The massive building appears to be built of solid granite. In reality it is terra-cotta faced with a Grana-Tex glaze. The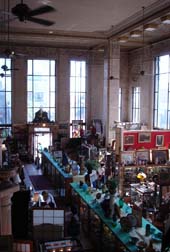 simulation is very effective.
The building features everything you'd expect in a classic bank: lots of exterior ornamentation, sculpted eagles, faux columns surrounding extremely tall windows, interior design that draws one's attention to the massive vault at the back of the bank, and an interior ceiling height that, in today's energy conscious world, is really quite stunning. Here's a view of the building's interior.
American Trust merged with Wells-Fargo in 1960, and the bank vacated the building in the early 1990s as the result of another merger. The building is now an antique shop, appropriately named Vintage Bank Antiques. Stop in for a visit sometime, and don't forget to step into the vault.
| | |
| --- | --- |
| | Continue the tour |