1882 Masonic Lodge

9 Western Avenue
---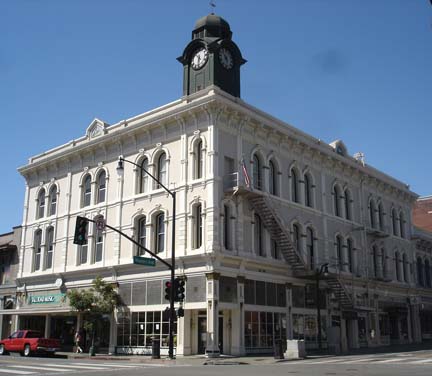 At the corner of Petaluma Boulevard and Western Avenue sits an imposing three-story Victorian Itanianate, which is the home of the Petaluma Masonic Lodge. Constructed in 1882, the building's exterior features are made of cast iron, and it is the eastern anchor of the Western Avenue Ironfront Row.
The massive building's upper two floors are utilized by the Lodge, and retail stores are at the street level.
The building has always been the home of the town clock, although the copper tower which is seen today was replaced in 1934. The inner workings are from the original clock which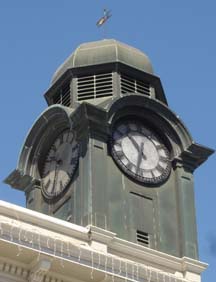 was shipped around the Horn in 1882 from Seth Thomas in Connecticut.
The community engaged in a lively discussion whenconsidering the issue of installing a town clock, andthePetaluma Argus declared at the time, "The town clock is a public necessity. The young want it to tell what time to go to school; the old to tell what time to go home. Men want it so that they can pawn their watches, and women want it so they can look out their chamber windows and see if their husbands lie when they come home. The clock will not only be a great convenience, but will prove a positive conservator of public morals."
Now take a left up to Western Avenue and the Ironfront Row.