1914 Northwestern Pacific Train Depot

Lakeville St. at East Washington
---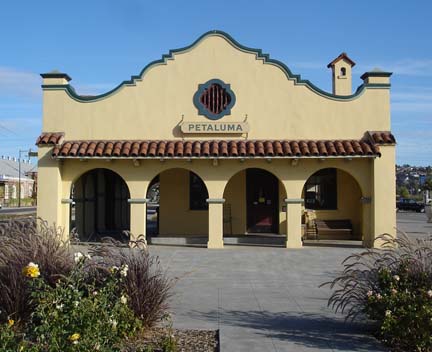 In 1914 a new train station was built in Petaluma to replace an old wooden structure that had been moved and converted to a freight depot. The station was designed by Southern Pacific Railroad architect D.J. Patterson, in the Mission Revival style. Patterson also designed stations for the cities of Galveston, San Antonio and Salt Lake City, but none used the Mission Revival style. The new station consisted of a passenger depot and baggage building, and was built at a cost of $7,000.
The Mission Revival style was extremely popular in California during the 1890s and reflected regional influences, including the Spanish Colonial mission history. It was favored over designs imported from the east as it gave western design a distinctive look that reflected the unique cultural heritage of the area.
The depot was completed just before tracks were laid that would unite Petaluma and Eureka. By 1923, the area had become a popular vacation destination and travelers could board the train in Sausalito for a journey to five North Bay counties. After the 1930s the depot's importance as a center of transportation declined.
In 2003, the Sonoma Marin Rail Transit Commission (SMART) approved a 25-year lease with the City of Petaluma for the revitalization of the three buildings on the railroad site. The City's redevelopment agency became responsible for the improvements and maintenance of the 92 year old depot. A $3.2 million renovation required complete interior and exterior restoration, and period details were recreated using historic pictures and renderings. The project was completed in late 2005, when the Visitor Center relocated to the site.
Thanks to Katherine Rinehart for providing the history of Petaluma's 1914 Northwestern Pacific Train Depot.
| | Continue the tour |
| --- | --- |