1886 and 1911 McNear Buildings

100 block of 4th Street and Petaluma Boulevard North
---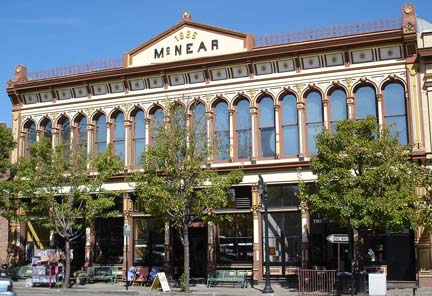 This High Victorian Italianate was built in 1886 by John A. McNear. It is a double-sided building which fronts on both Fourth Street and Petaluma Boulevard North. This view is of the Fourth Street side.
The McNear Building is a brick structure which is faced with sections of iron facade. For decades until the mid-1970s, the building was boarded up and painted a beige color which caused the building's exquisite detail to completely disappear from view. In 1976 the building was purchased by Jeff Harriman and Wallace Lourdeaux, who applied nine distinct colors of paint to accentuate the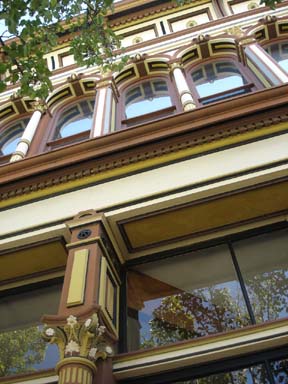 building's many features. A close up view of the tops of the windows, pictured above, shows sculptured heads and flowers which are now easily visible from the street level.
The opposite side of the building fronts on the Petaluma Boulevard North side near Center Park and is the location of McNear's Restaurant and Saloon. An adjoining building, built by George McNear in 1911, flows between the two streets in a similar fashion. It is of a more modern design, and includes the Mystic Theater, which was one of the first silent movie houses in California. The original Mystic Theater was renamed the State Theater, then renamed the Plaza Theater in the 1970s, and now retains its original 1911 title. Both McNear buildings have been completely restored to their original grandeur both inside and out, and the upper floors consist primarily of office space in a historic setting.
Pictured above is the 1886 side of the building. To the right is a close-up view of the building's architectural detail.
| | |
| --- | --- |
| | Continue the tour |