1933 U.S. Post Office

20 Fourth Street
---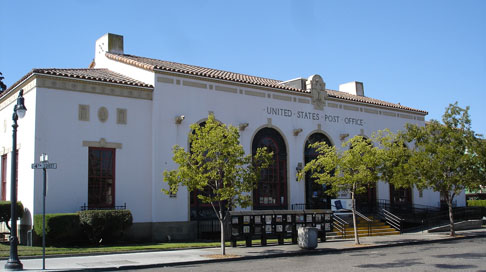 Among the hundreds of buildings designed by Brainerd Jones, one of the most prominent still in use is the 1933 US Post Office. It was designed have four times the floor space of the old Post Office, and it has served the town well. But while the Fourth Street office continues to operate, in 1992 the new Casa Grande Station was finally built to replace what had become an impossibly cramped downtown Post Office.
The building has numerous elements of the mission style and a distinctive red tile roof. But, somewhat strangely, it combines an odd mix of gargoyles, extensive use of marble at the entranceway, and elegant woodwork and lightfixtures in the interior, shown below. Above the front entrance is an elaborate 'tombstone' 1930s stylized eagle, reminiscent of countless WPA projects. While it may defy architectural categorization, it's a beautiful building that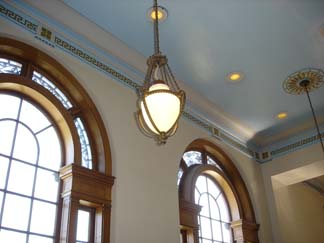 certainly must have been considered an extravagance when it was dedicated by the Native Sons of the Golden West, April 15, 1933. This was, after all, at the depths of the Great Depression.
Since this is perhaps the most public of all the buildings on our tour, be sure to take a few minutes to walk in and around the 74 year old 'new' Post Office in downtown Petaluma.
| | |
| --- | --- |
| | Continue the tour |