Ironfront Row

9 Western Avenue
---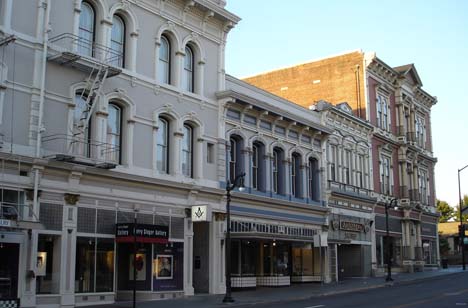 Western Avenue, between Petaluma Blvd. and Kentucky Street, is the location of Petaluma's most significant architectural gem, the group of Itanianate ironfronts. The authors of A Guide to Architecture in San Francisco and Northern California stated that this row is "unmatched in California architecture."
The buildings have cast iron facades, which in the 1880s were thought to be extremely strong and fireproof. Unfortunately, this notion was proven false by the 1906 earthquake and fire which destroyed virtually all of San Francisco's ironfronts. Petaluma was much more fortunate as the quake caused little damage, even though the epicenter was only 18 miles from downtown.
Petaluma's ironfronts were manufactured at San Francisco foundries, and shipped up the Petaluma Creek to be assembled at the site. The iron was then bolted directly to brick walls.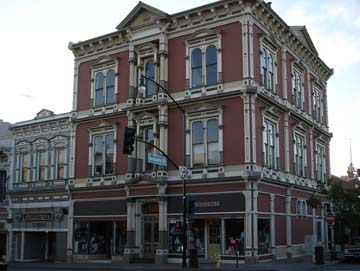 The Ironfront Row occupies the entire first block of Western Avenue. It begins at the Masonic building, and continues west through Dom Ivana and Andresen's Tavern, both c.1885, and the opulent three story Mutual Relief Building, built 1885, at the western end of the block. Both of the middle two buildings were originally saloons, and by 1886 were counted among the 42 drinking establishments in town. On the rear of the Mutual Relief Building is painted a classic 1920s-era Coca Cola advertising sign, shown above. The lower picture gives a better view of the Mutual Relief, and Andresen's Tavern to the left.
Now we'll go further up Western Avenue to the 1926 St. Vincent de Paul Catholic Church.