1926 St. Vincent de Paul Catholic Church

22 Bassett Street
---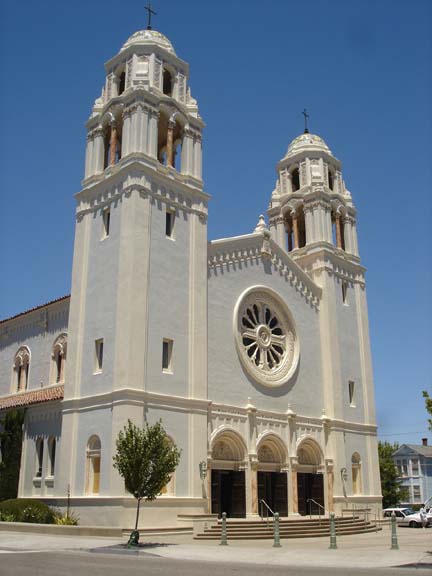 St. Vincent dePaul Catholic Church was built under the direction of Rev. James Kiely, and celebrated its first mass on Christmas Eve, 1926.
Father Kiely had served the congregation of the Novato Catholic Church during the 1906 earthquake, and the Novato building had suffered major damage. Upon moving to Petaluma, he feared a similar fate might befall St. Vincent, so he insisted on double steel reinforcement throughout the entire structure.
The 1885 Catholic Church which stood at this location was moved in 1925 up Western Avenue to the corner of Baker and Stanley Streets, where it has served the congregation of Elim Lutheran Church since 1926.
Prior to 1993, the church was a single color beige, which caused the building's remarkable detail to disappear from view. That year the church embarked on a major restoration project which included multi-color painting and extensive interior work to accentuate the building's extraordinary design.
In 2000, the short block of Bassett Street directly in front of the church was closed and redesigned as a pedestrian plaza. This project connected the church directly to the small triangular park directly in front of the building, and a fountain was installed. The space is now a beautiful plaza which serves both the church and the community.