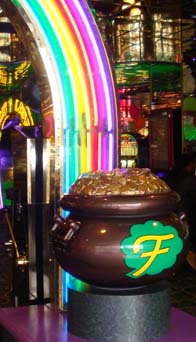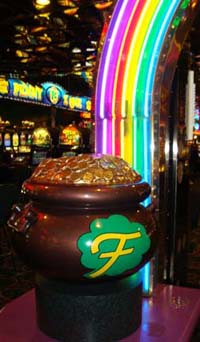 Fitzgerald's Reno closes, reopens as CommRow, then Whitney Peak Hotel
On November 30, 2008, one of the last of the authentic Virginia Street icons closed its doors. Fitzgerald's Hotel Casino, located just inches from the western tower of the famous Reno Arch, joined such greats as the Harolds Club, the Nevada Club, and the Mapes, as extinct relics of Reno's glorious past.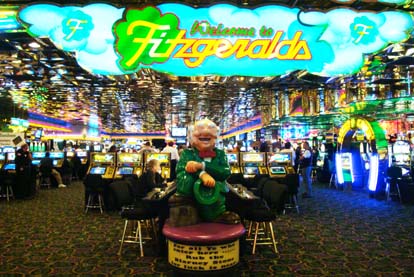 But we couldn't be happier to report that the old Fitzgerald's Hotel has reopened as CommRow, a 60,000 square foot complex which will feature the world's tallest climbing wall, a world class 7,000 square foot indoor bouldering park, two live entertainment venues and eleven food and beverage vignettes. The first phase is transforming the building into a non-gaming, non-smoking, pet-friendly, no-frills chic hotel.
Here's a bit of history:
Fitzgerald's was built in 1976 by Lincoln Fitzgerald. Fitzgerald got his start in the gambling houses of Detroit, and moved to Reno in 1945. He opened the famous Nevada Club, which operated across Virginia Street from 1946 through 1997, and the Nevada Lodge at North Lake Tahoe from 1957 through 1983. Lincoln and his wife, Meta, found great success in their casino operations, and opened the beautiful new Fitzgerald's Hotel Casino in May 1976. It consisted of a 16 story hotel tower, and two floors of casino action. The 26,260 square foot casino featured 830 slot machines and 21 table games. The Fitz also had three restaurants along with the 351 room hotel. Construction of the hotel cost $16 million, which Fitzgerald paid in cash.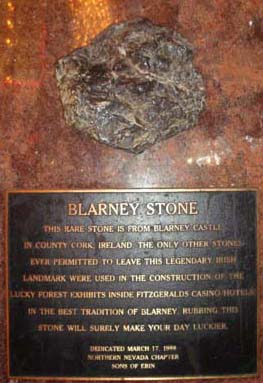 Fitzgerald, who was well into his 80s, ran a meticulous operation, and oversaw every phase of the business. Employees considered it to be the best place to work in Reno.
Lincoln Fitzgerald died in 1981, and the casino was then operated by Meta and Carlton Konarske. Successive owners bought the famous Nevada Club and Harolds Club, both across the street from Fitzgerald's. Eventually Harolds Club and the Nevada Club were both torn down to create an "urban plaza" owned by Harrah's.
Fitzgerald's theme revolved around the "luck of the Irish", with numerous lucky charms, a wishing well, and stones from Blarney Castle. Guests could also rub a genie's lamp, the belly of the Chinese God of Luck Ho Tei, or a lucky horseshoe that was worn by Secretariat while winning the Triple Crown. Most of these lucky icons were located in the second floor 'Lucky Forest'. Of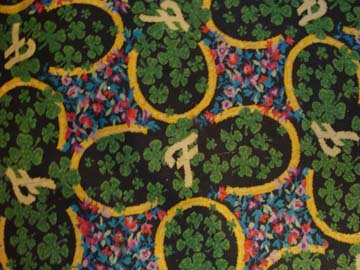 particular note is the odd cartoon character, Mr. O'Lucky, who greets patrons at the door and just about everywhere else in Fitzgerald's. Even the carpet, shown here, was lucky.
Unfortunately the lucky charms didn't work for Fitzgeralds, as Chapter 11 bankruptcy was filed in 2000. Fitzgerald's continued to operate for seven years while barely making a profit. This was most likely possible since the casino had always maintained a fiercely loyal clientele.
And now we are delighted to welcome CommRow to Virginia Street. We look forward to the new style it will bring to downtown Reno. (Update Dec. 2019, the Whitney Peak Hotel now occupies the old Fitzgerald's Hotel/Casino building).
So long to the old Fitz. Click here for photos inside Fitzgerald's Hotel Casino taken in November 2008.